About Us
"Kim tours Vietnam established in 1993 at 74 Hang Bac street - Hoan Kien - Hanoi and moved to new location at 74 Hang Bac Street in Old Quarter , Hoan Kiem ,Hanoi,Vietnam now, which is one of the most famous travel company organizing tour packages and daily excursions for oreign travelers to discover all corners of Vietnam,Laos,Cambodia .Growing up together with innovating policy of our government ,day by day Kimtours expands their services to demand all tourist's needs and travel agencies's expectations ,from there to now Kimtours has had high recommended by Travellers and Famous Guide books as one of the most experience ,valuable and competitive tour operator in Vietnam . Here is some of famous Vietnam Guide Books that have recommended Kim tours . 
Le guide du Routard Vietnam published in 1995,1997,1999,2001,2003,2005,2007,2012, 2009 to 2019 by Hachette in France 
Troptter Clup Guide book Vietnam 2009 published in Netherland 
Key Travel To Vietnam Guide Book in UK 
We have been recommended is one of best travel company in Vietnam that organizing street food tours , cooking class tours by walking and scooters by Routard Vietnam 2019,Guide des vacances au Vietnam, The Rough Guide to Southeast Asia On A Budget and TripAdvisor's Members
Tripadvisor :
TripAdvisor Traveller Rating

Based on 36 traveller reviews
TripAdvisor Ranking #98 of 266 Food & Drink in Hanoi
Most Recent Traveller Reviews

6 Oct 2018:

"Just book this tour!"

28 Aug 2018:

"Best way to sample street food."

3 Apr 2018:

"Gigi is a wonderful foodguide"
© 2018 TripAdvisor LLC
Best Tours organized by Kim Tours Vietnam
Reviews from our travelers
The four of us really enjoyed our tour of some great little places in Hanoi's Old Quarter. Plenty of food and a really bunch of people on the tour. Violet was a great host who went out of her way to make sure everyone had a good time and mixed with the other participants
Stop reading and just go book it. Trust me.
You want more? Fine!
We loved our experience with Lucy on our Kim's Food Tour. We visited seven fantastic little eateries, sampled a bunch of food, shouted 'Sticky Rice - please don't kill me' while wading into the river of bikes on every street, and came back with a more thorough understanding of Hanoi cuisine. from :cwbush83 - Armidale, Australia
We had a very nice street food tour with Kim Tours. Our guide was very friendly and we tasted a lot of strange things we would not even consider trying :)
I highly recommend this tour operator recommended by AJICE -Reykjavik, Icelan
We are still yelling STICKY RICE each time we cross the road. Book this trip and see why :) Cherry was our guide and was so friendly, so enthusiastic, and a blast to be around. The food was good and we got to go to so many places that we would otherwise be intimidated of. This was such a great way to spend the night and well worth the money.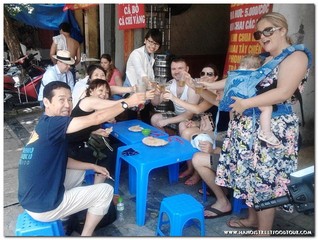 Had a great evening walking around the many side streets of Old Town Hanoi. This is a fantastic little tour stopping at around 8 different places for proper street food. Some of the places you would never go into if you were travelling by yourself as you would probably not even guess that they were food venues. Our hosts were Emily and Monster ( Flower ) who both did a great job in explaining the food to us and ensuring we didn't get mown down whilst crossing the crazy roads of Hanoi. A great evening with a group of strangers from around the world . Real good fun at a great price. I think it was less than £20 per person. A real must do trip when in Hanoi.
I spent a fabulous time in a small group (3 person) with two dynamic, nice and funny young guides. All the food I tested, was very tasty and good. A good introduction of the Vietnamese food and a really good exchange with our guides. We walked across the city, between the different local restaurants and talked a lot about there country, there culture and i taught them some french. We laughed a lot. Many thanks loan and daisy. Remember : " bonjour, comment ça va?" Hope to hear from you.
Hanoi Street Food & Drink
In Hanoi the food is plentiful, it's everywhere that you look and is an integral part of the livelihoods of many locals. More often than not, the street is the stage where much of what is food related in Hanoi takes place. Street food can be found on the main streets of Hanoi, and down many of the side streets and alleways. Most areas aren't dedicated to food, and you'll find places to eat sandwiched in between residences and all kinds of businesses. Several times my wife and I would walk down an alleway that looked interesting only to find ourselves in the courtyard of a residence. The looks we received on these occasions ranged from puzzled to nonchalance. I'm not sure whether there is any regulation as to where people can sell food. Most of the time the wandering vendors seem to simply set up shop where they want, and then move on to another spot depending on how busy things are. More Read
Contact Us
Avoid getting a trouble with someone faked us, Travelers must be paid and departed at our office meeting point as below only Add : 74 Hang Bac Street at Kim Tours's Building - Old Quarter - Hanoi
Name : Kim Tours Vietnam since 1993
International Travel License No: 0714/2007/TCDL-GPLHQT
Office locattion : 74 Hang Bac Street, Old quarter of Hanoi, Vietnam
Tel : 0913340524 or 024 39260804
Email : kimtoursvietnam@gmail.com
Website : www.kimtoursvietnam.com