The Train Street + Hanoi night life food tour by Scooter Motorbike
Duration: 04 hours by Moped ( Motorbike )
Group tour set departure time at 18h00 on Everyday
We will pick you up at your hotel in the old quarter- Hanoi
Meeting Place
We will pick you up at your hotel 15 minutes before the tour departs and bring to Kim Tours Vietnamis located at 74 Hang Bac Street (the Kim Tours Building in Hanoi Old Quarter). Here you will get a chance to meet your guide and other tour goers (if you've chosen the group tour), as well as make payment if you haven't previously done so. Begin your tour at your chosen time with an expert, english-speaking, local guide.
Highlights:
What better way to get around Hanoi than by a scooter? They are practical, effectively gets you through the traffic during certain hours and best of all, they are cheap modes of transportation. Add street food tasting along with the experience and have the time of your life roaming around Hanoi's best spots.
Select from any option of departure times scheduled around the day. Departures take place during three different hours, you are welcome to select from. Some places to visit are the Big Church, Ho Chi Minh Mausoleum, Old Quarter and the Long Bien Bridge. Costing no more than $100.00 you will be provided a scooter as well as a driver to drive you around town as well as serving as your guide
Price : 59 USD/Person /Set departure group tour- Booking now
| Price /Person/Number of people in your private Group | Solo ( 01 Pax ) | 2 to 3 Pax | 4 to 5 Pax | 6- 9 Pax | 10 Pax Up |
| --- | --- | --- | --- | --- | --- |
| Booking now | 75USD | 70 USD | 65USD | 60USD | 59USD |
Tour style: Local Life & Culture, Local Food, Walking & Orientation
Inclusions: English speaking guide, all food items as per itinerary, 1 bottle of water, 1 coffee or beer.
Exclusions: All other drinks, extra food portions, tips for local guide
Duration: 03 hours by Walking
Meeting Point at : 74 Hang Bac Street , OLd Quarter of Hanoi
Departure Time :18h00
Drop off location at 74 Hang Bac street, Old quarter of Hanoi or your hotel in the old quarter
Hanoi Night Life Street Food Tour By Motorbike
17h45 : Pick up at your hotel in the old quarter to 74 Hang Bac Street, Hanoi to pay 18h00 : Introduce the itinerary of tour and drive around 36 old streets in the old quarter to enjoy different kind of street foods and Drink
Driver to the Hanoi Train Street to take a pictures ( Watching the train whizz past was one of the highlights of our visit to Hanoi. It offers such a unique and off-the-beaten-path insight into local life in Vietnams bustling capital).
Crssing over Ho Chi Minh Complex for sightseeing with overstop by the side of west lake to enjoy street food +drink. 20h15 Riding pass Long Bien Bridge for sightseeing and taking pictures. Continue riding around old quarter of Hanoi with overstop at Opera house, Metropole Legend Hotel, Hoan Kiem Lake, Big Church.
21h20 Drive to local Coffee to enjoy local life & drink 21h50 Finish your tour at local coffe and drive back your pick up address or old quarter .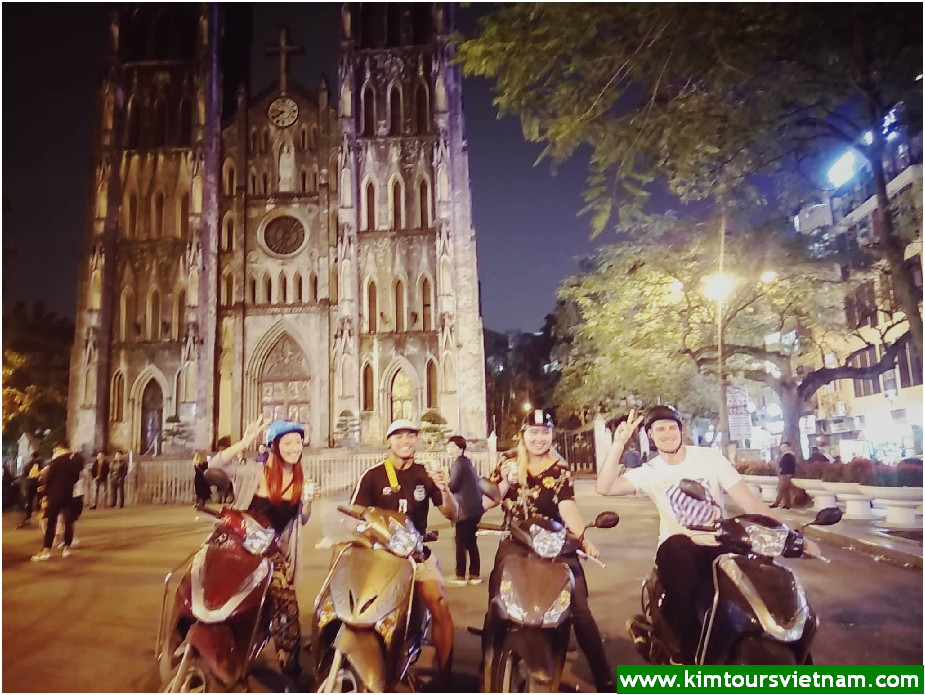 Booking now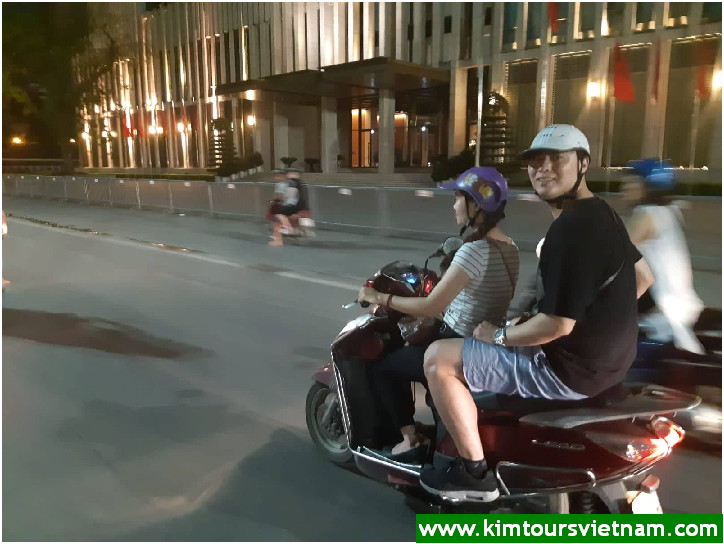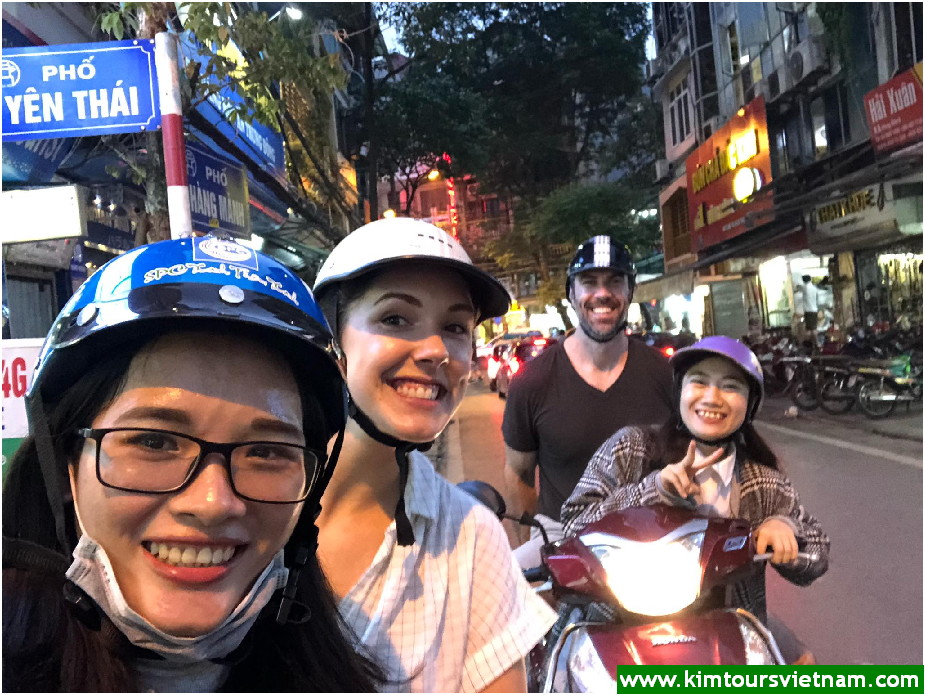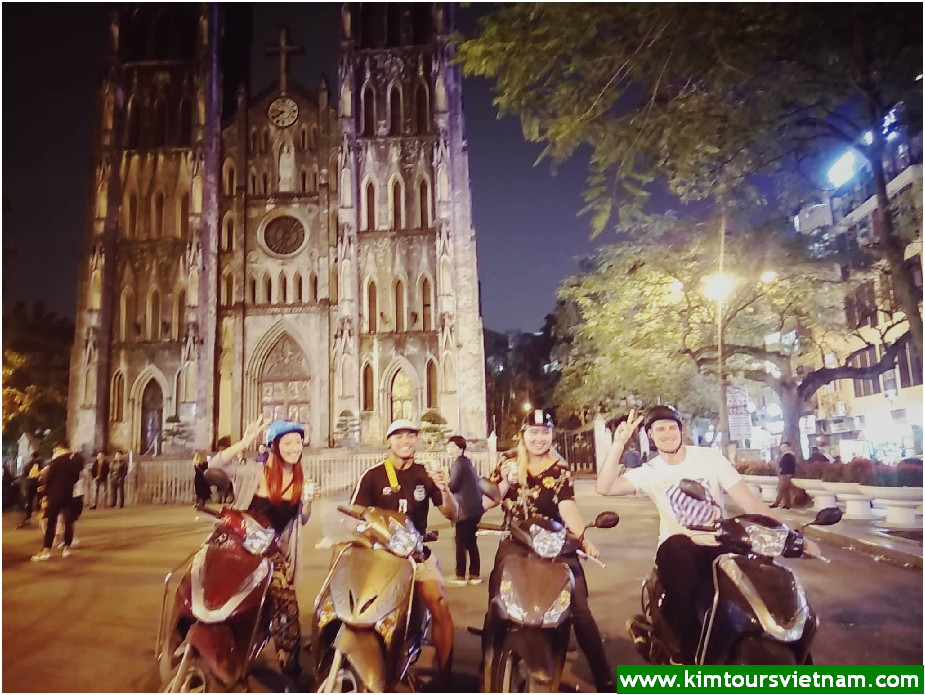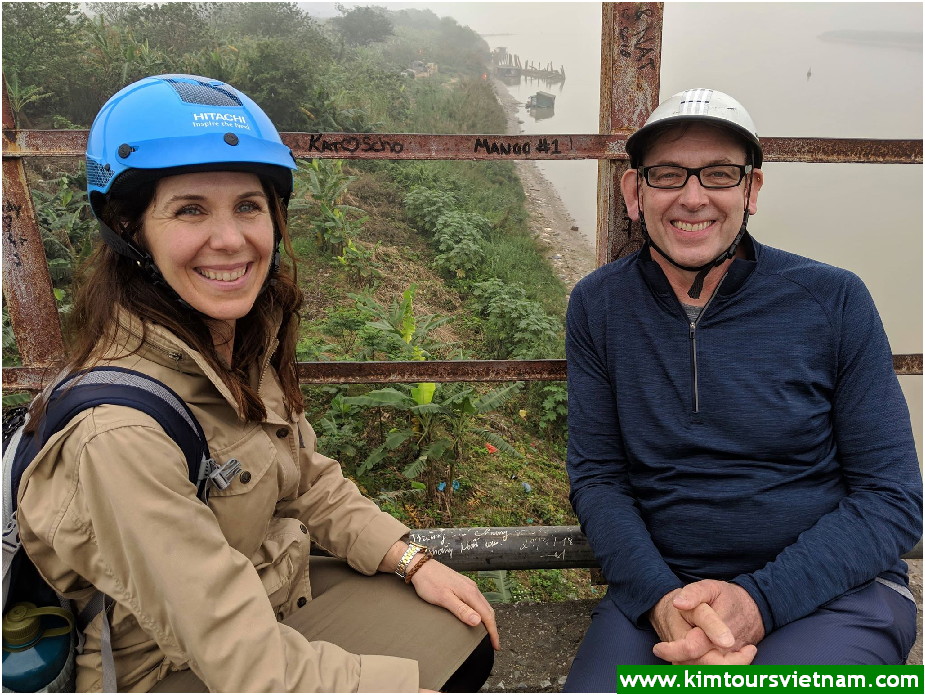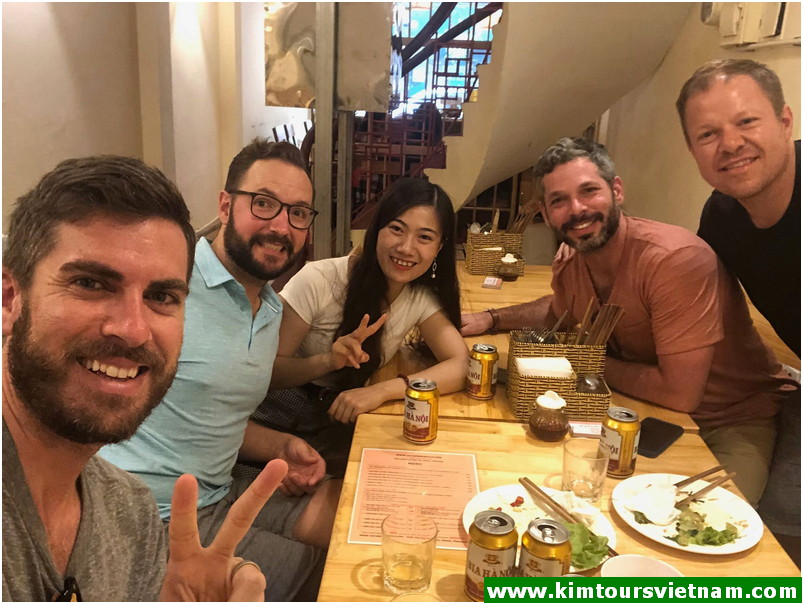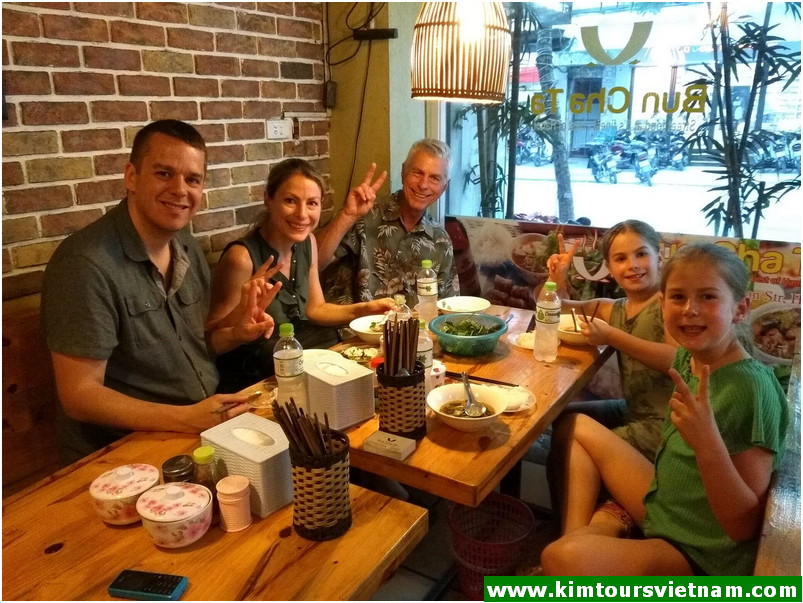 Warning Fake Kim tours
Dear our valued customers who ask other person calling us to book our tour
Avoid getting wrong Price & Fake One by your helping bookers, Please do as below
For Money! Recently there have been few hotels, travel agents, tour sellers are trying to convince our recommended customers that they are Kim Tours Vietnam's partners,Kim Tours Vietnam''s agents in order to sell the tours under the fake stamp of Kim Tours Vietnam' . They are even trying to copy our tour programs, tour guides' names to make our customer believe that they are the real Kim Tours Vietnam'… but please be aware that all of them are Fake. to avoid booking a tour with the Fake One with doing as below :
Best Tours organized by Kim Tours Vietnam
Hanoi Street Food & Drink
In Hanoi the food is plentiful, it's everywhere that you look and is an integral part of the livelihoods of many locals. More often than not, the street is the stage where much of what is food related in Hanoi takes place. Street food can be found on the main streets of Hanoi, and down many of the side streets and alleways. Most areas aren't dedicated to food, and you'll find places to eat sandwiched in between residences and all kinds of businesses. Several times my wife and I would walk down an alleway that looked interesting only to find ourselves in the courtyard of a residence. The looks we received on these occasions ranged from puzzled to nonchalance. I'm not sure whether there is any regulation as to where people can sell food. Most of the time the wandering vendors seem to simply set up shop where they want, and then move on to another spot depending on how busy things are. More Read
Contact Us
Avoid getting a trouble with someone faked us, Travelers must be paid and departed at our office meeting point as below only Add : 74 Hang Bac Street at Kim Tours's Building - Old Quarter - Hanoi
Name : Kim Tours Vietnam since 1993
International Travel License No: 0714/2007/TCDL-GPLHQT
Office locattion : 74 Hang Bac Street, Old quarter of Hanoi, Vietnam
Tel : 0913340524 or 024 39260804
Email : kimtoursvietnam@gmail.com
Website : www.kimtoursvietnam.com