03 hour street food + train street visiting tour By Motorbike
Duration: 03 hours - Private tour departs at any time from 6h00 AM to 19h30
Group tour set departure time at : 11h30 AM & 18h00 on Everyday
Pick up at your hotel in Old Quarter of Hanoi 15 minutes before tour departs
Meeting Place
We will pick you up at your hotel 15 minutes before the tour departs and bring to Kim Tours Vietnamis located at 74 Hang Bac Street (the Kim Tours Building in Hanoi Old Quarter). Here you will get a chance to meet your guide and other tour goers (if you've chosen the group tour), as well as make payment if you haven't previously done so. Begin your tour at your chosen time with an expert, english-speaking, local guide.
Highlights:
In today's busy life, stress has become a part of everyday life and sometimes it can take a toll on our mental and physical health. Most stress is never truly dealt with and as a result most people are left feeling overwhelmed and burned out. According to research, unresolved stress can cause a variety of health problems, such as high blood pressure, severe anxiety, weight loss, mood swings, depression, and even death. Therefore, finding ways to relieve stress is one of the most important things you should do.
Price : 45 USD/Person /Set departure group tour - Booking now
| Price /Person/Number of people in your private Group | Solo ( 01 Pax ) | 2 to 3 Pax | 4 to 5 Pax | 6- 9 Pax | 10 Pax Up |
| --- | --- | --- | --- | --- | --- |
| Booking now | 60USD | 55 USD | 50USD | 47USD | 45USD |
Tour style: Local Life & Culture, Local Food, Walking & Orientation, Market Visits
Inclusions: English speaking guide, all food items as per itinerary, 1 bottle of water, 1 coffee or beer. Meals: 1 dinner
Exclusions: Visit local market, English chef, food, Egg Coffee
Duration: 03 hours
Meeting Point at : Pick up at your hotel in old quarter or At 74 Hang Bac Street
Departure Time :11h00 AM - 17h00 , 18h30 PM
Drop off location at 74 Hang Bac street, Old quarter of Hanoi
Itinerary Street Food Tour
A fun ride to the most popular tourist attractions in old quarter of Hanoi. Learn the history of each famous site from the unique perspective of our guides. Not only will you learn some fun and interesting facts about of each of the places we take you on the tour, our guides will tell you things only a true native of Hanoi knows. For example: Why do so many young people hang out in street at noon & night? why local people like eating street foods in old quarter of Hanoi?.he tour offers a good mix of both famous attractions and lesser known markets and sites that the big tours cannot go to. We offer the tour at lunch time and dinner time, when all most street food shops are opening and we will have an excellent chance to taste many different street food,drink. Sample the most amazing dishes that Vietnam has to offer! Taste your way through cuisine from North Vietnam, Hue and The South! The "Foodie" is the most acclaimed food tour in all of Vietnam , and is designed to introduce you to the dishes and desserts that most food blogs and other tours don't really touch upon. Driver to the Hanoi Train Street to take a pictures ( Watching the train whizz past was one of the highlights of our visit to Hanoi. It offers such a unique and off-the-beaten-path insight into local life in Vietnams bustling capital)
Drive back your pick up address.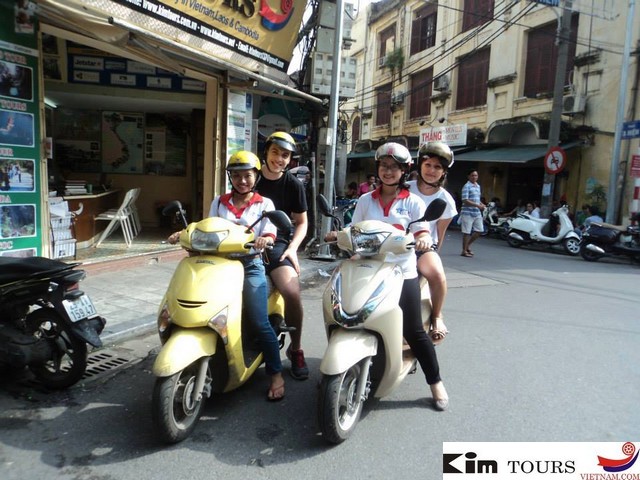 We will take you to the most popular street stalls and hidden alleyways in the city and show you where the locals really love to eat! So save your appetite, delight your palate and let us fill your tummy with delicious and authentic Vietnamese food! Our Foodie tour focuses on street food; dishes that most people outside of Vietnam have never had a chance to experience.....such as : Banh Cuon,Pho,Banh Mi, Bun Cha, Bia Hoi, Egg Coffee ! We also won't make you to eat bugs or anything too weird...unless it's a request. :) The Foodie Tour is only available in the evenings when most of the street vendors open for business. All food & drinks are included in the price! You get at least 8 entrees, dessert and drinks (yes...local beer is on the menu!) on this tour. The portions are generous, and we'll keep on ordering food as long as you keep eating ! Booking now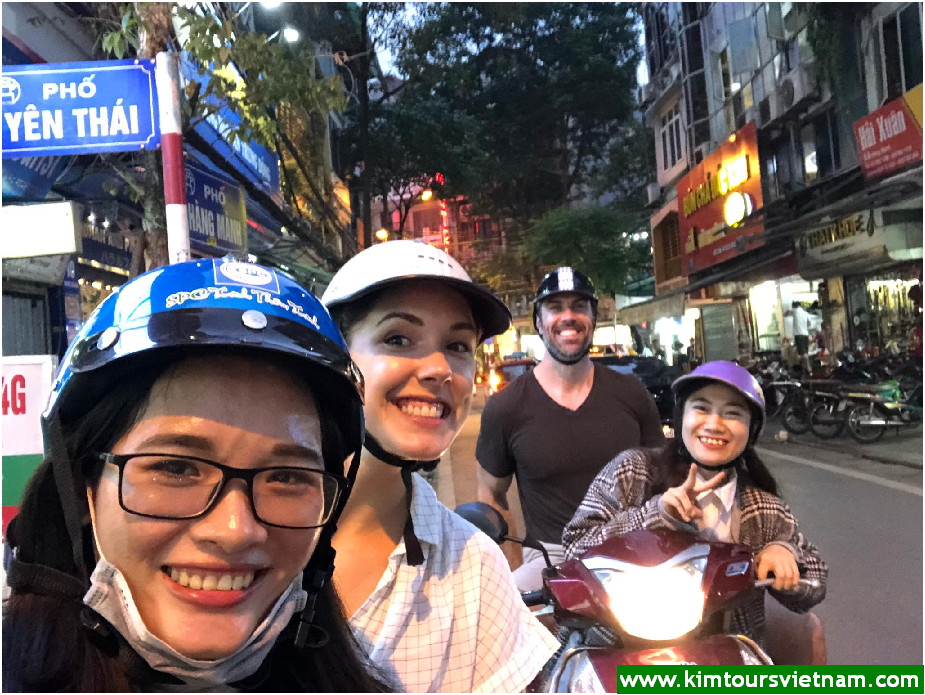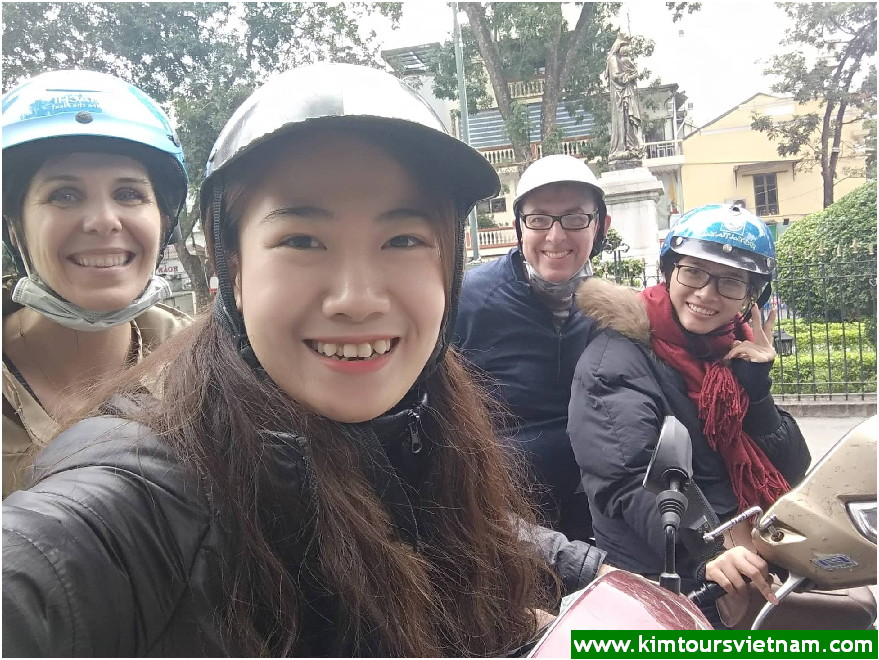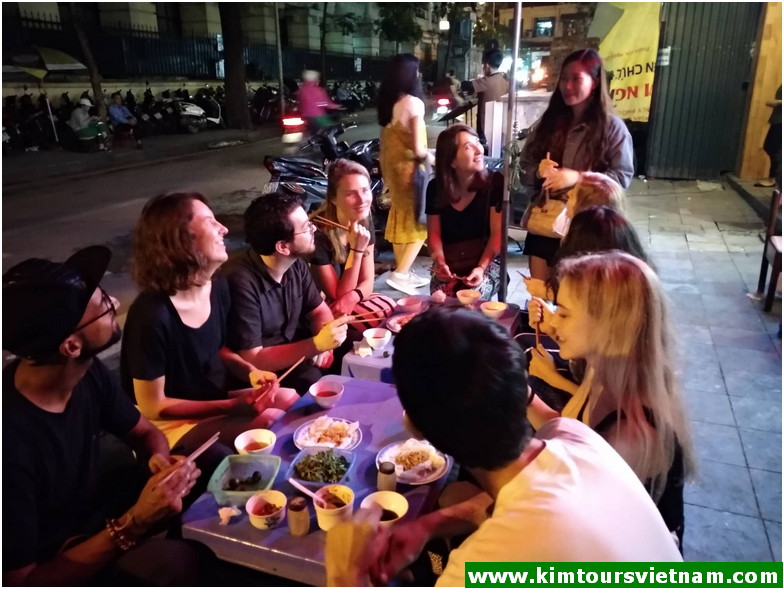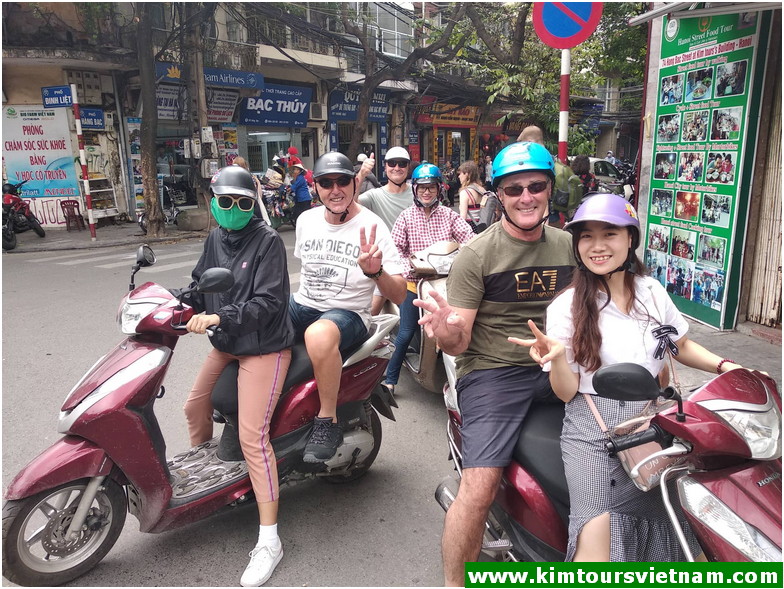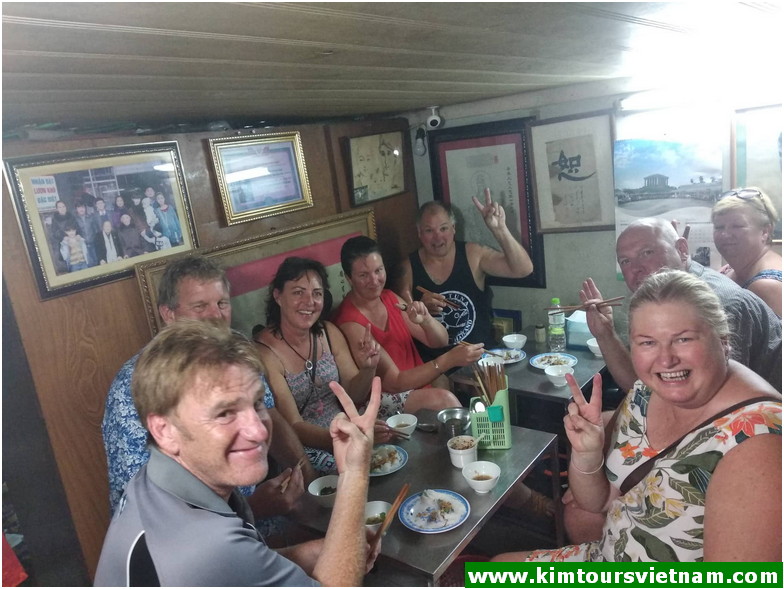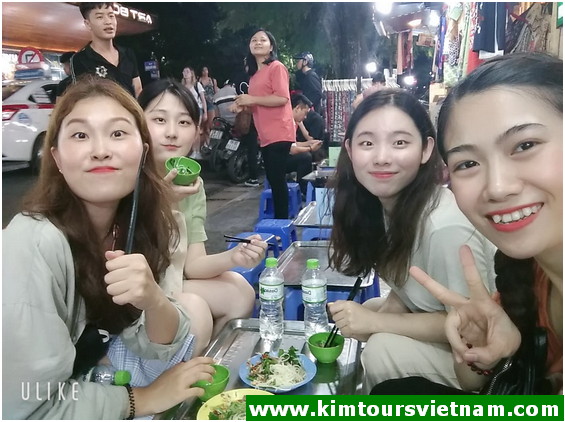 Warning Fake Kim tours
Dear our valued customers who ask other person calling us to book our tour
Avoid getting wrong Price & Fake One by your helping bookers, Please do as below
For Money! Recently there have been few hotels, travel agents, tour sellers are trying to convince our recommended customers that they are Hanoi Street Food Tour's partners, Hanoi Street Food Tour's agents in order to sell the tours under the fake stamp of Hanoi Street Food Tour . They are even trying to copy our tour programs, tour guides' names to make our customer believe that they are the real Hanoi Street Food Tour… but please be aware that all of them are Fake. to avoid booking a tour with the Fake One with doing as below :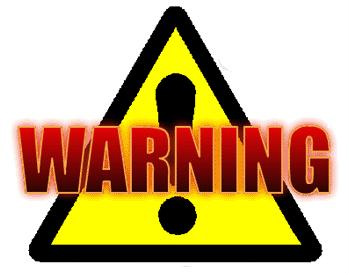 -Ask your helpers to call us : + 84 91334 0524 & let you speak to us directly
-Do not pay over 20 $/01 Person /Group tour - Always available seats with 3 set departure times at 11h00 AM, 17h00 and 18h30 PM . If you can not contact us in advance ,Just come to our office at Kim Building at 74 & 76 Hang Bac Str, Hanoi, Hanoi 15 minutes before departure time to pay and join the group tour - Location Map
-We offer a 100% Payment will be refunded if you are not happy with street food tour
Best Tours organized by Kim Tours Vietnam
Itinerary of Old Quarter Walking + Street Food Tour
We start our excellent street food walking tour at 74 Hang Bac Street at Kim Tours's Building in old quarter of Hanoi along the perimeter of the market, dozens of street hawkers sell a staggering variety of produce from live seafood to exotic fruits and spices. Your expert English-speaking local guide will give you an insight into the intricacies and traditions of Vietnamese food culture including details on ingredients and historical backgrounds of popular northern dishes. We eat as we go, trying seasonal fruits and sampling a tasty French-inspired snack from a street cart. Walking through the maze of bustling streets that make up Hanoi's Old Quarter, we tempt our tastebuds with the famed Hanoi dish such as Bun Cha Hanoi , Banh Cuon at a local eatery. Watch in awe as the skilled chefs demonstrate for you how this tasty dish is put together. Continuing into the atmospheric heart of the Old Quarter, we wander past street stalls and quiet residential lanes where you can observe local life that has changed little since Hanoi was founded over 1000 years ago.
Our next two snack stops are at outdoor barbeque stalls. We sit down with the Hanoi locals and sample various meat, vegetable and bread specialties that are flame grilled over hot coals for extra flavour. It's then time for dessert as we venture down a small alley to join in the local tradition of feasting on fresh fruit served in a cup and smothered with crushed iced and condensed milk – this speciality is one not to be missed! Your local guide will then take you to one of Hanoi's best kept secrets, a hidden street food restaurant to taste top ten street foods in Hanoi is Banh My Hanoi, Vietnamese Rice Wine and famous Egg Coffee. This hard-to-find café is one of the few left in the narrow street inside the old quarter of Hanoi. Or, if coffee is not your style, a cold beer awaits!. At the end of the trip you are free to continue exploring the area or your guide will assist you with directions or a taxi back to your hotel.
You can booking now : Booking now
Hanoi Street Food & Drink
In Hanoi the food is plentiful, it's everywhere that you look and is an integral part of the livelihoods of many locals. More often than not, the street is the stage where much of what is food related in Hanoi takes place. Street food can be found on the main streets of Hanoi, and down many of the side streets and alleways. Most areas aren't dedicated to food, and you'll find places to eat sandwiched in between residences and all kinds of businesses. Several times my wife and I would walk down an alleway that looked interesting only to find ourselves in the courtyard of a residence. The looks we received on these occasions ranged from puzzled to nonchalance. I'm not sure whether there is any regulation as to where people can sell food. Most of the time the wandering vendors seem to simply set up shop where they want, and then move on to another spot depending on how busy things are. More Read
Contact Us
Avoid getting a trouble with someone faked us, Travelers must be paid and departed at our office meeting point as below only Add : 74 Hang Bac Street at Kim Tours's Building - Old Quarter - Hanoi
Name : Kim Tours Vietnam since 1993
International Travel License No: 0714/2007/TCDL-GPLHQT
Office locattion : 74 Hang Bac Street, Old quarter of Hanoi, Vietnam
Tel : 0913340524 or 024 39260804
Email : kimtoursvietnam@gmail.com
Website : www.kimtoursvietnam.com